Nowadays, in the economic age of beauty, cosmetics have long become fashionable and daily necessities in people's daily life. The rapid rise of cosmetics consumption worldwide has brought the cosmetics market into a golden period of development. So the needs for cosmetic packaging boxes increasing rapidly also.
Currently, cosmetic packaging is classified according to materials, mainly plastic, glass, paper, and metal. Among them, the color box in paper is the packaging with more usage after plastic and glass. The rapid development of cosmetics has made the sales of cosmetic packaging boxes continue to rise due to this shareholder trend. Product quality, marketing strategy and packaging design are the three magic weapons that make a brand stand out in the fierce market competition, but packaging design has a more strategic position for the cosmetics industry. Nowadays, cosmetic packaging boxes are increasingly showing the following characteristics:
1) Novelty
As far as packaging colors are concerned, from the past only pursuits, we can see that the color matching is now determined according to the product purchase group. Different colors represent different styles between brands.
2) Customization
On the eve of Valentine's Day in 2020, Valentine's Day limited products from brands such as YSL Beauty and Lancome were sold out soon after being put on the Tmall flagship store; Limited lipstick gift boxes from Givenchy Beauty, Armani Beauty, M?A?C , Is also popular in offline outlets such as brand counters. When consumers' demand for cosmetics is no longer limited to basic product functions, but the pursuit of inner satisfaction; when "limited cosmetic gift boxes" become the first choice for more and more couples and friends to give gifts. Tao will inevitably become more and more lively.
3) A sense of experience
Natural and hand-feel packaging is becoming a trend. When designing the carton, try to choose special effect paper with good contact experience. At present, special effect paper includes plant parchment, embossed paper, and patterned paper. Among them, patterned paper includes mesh paper, antique effect paper, adulterated and special effect paper, non-coated patterned paper, Ganggu paper, "condensed" pearl patterned paper, "Xingcai" metallic patterned paper, and gold paper. Different effects can meet the different promotion themes of the brand. In addition, the face of busy life has increased the frequency of business trips, and easy-to-carry cosmetics are also popular among white-collar ladies.
4) Concise
Now packaging tends to be more and more minimalist, and the fonts of products and packaging rarely use fancy designs. Turning the complexity into simplicity makes the logo more prominent, which is more conducive to product promotion. For example, the clever application of black, white and gray colors can give people a more stable and high-end quality. In addition, packaging must have deeper cultural connotations. Appropriate integration of traditional culture into packaging design will make packaging design more style and characteristic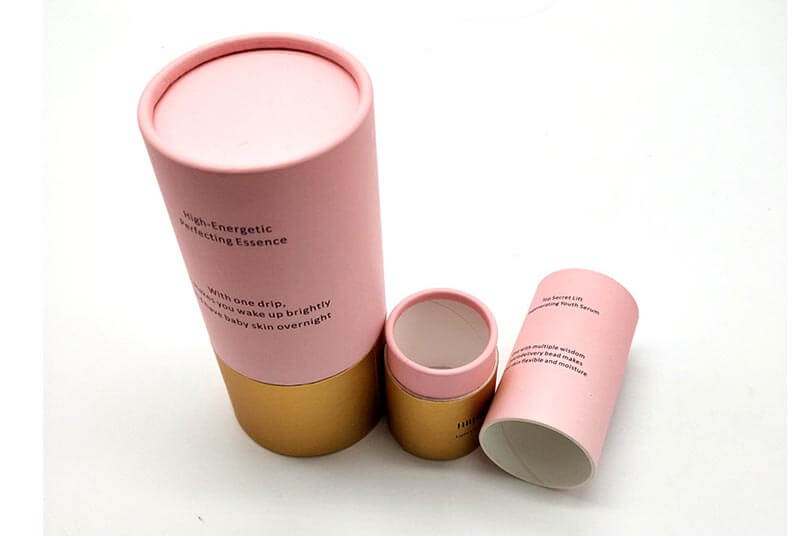 5) Intelligent
In the evolution of cosmetic packaging, smart packaging has become increasingly important. Some brands will conceptually give a sense of technology to product packaging to enhance the technical taste of the product. Cosmetics merchants can use QR codes and Near Field Communication (NFC) to print more information on products and track the packaging throughout the entire cycle, making it easier for consumers to obtain product information and conduct interactive activities.
6) Sustainability
As consumers' environmental awareness increases year by year, sustainable packaging has become the mainstream. Brands should strive to reduce redundant packaging and ensure that the packaging is as sustainable and recyclable as possible. For example, the structural design of each box reduces the use of packaging materials, so as to win more customers
Judge and choose a good cosmetic packaging boxes supplier
When customizing cosmetic packaging boxes, how should we choose a manufacturer to add value to the company's products and achieve the commercial purpose of marketing? The answer is to choose a professional manufacturer. So how to judge and how to choose?
You should select customized packaging boxes suppliers with good reputation.
Professional packaging box printing plants have a good reputation. Good reputation means good quality and good service. Of course, the price must be reasonable.
You should select the customized box packaging vendor according to the printing scale of packaging box required by oneself when choosing a printing factory.
If the company needs best quantity packaging, it is best to choose a packaging gift box printing factory with a larger scale and more developed production technology. If the number of production is small, there will be relatively fewer restrictions when choosing, and both large and small printing plants can meet the needs of enterprises.
Customized packaging boxes supply schedule depend on the manufacturer's shipping cycle.
This determines whether the supply of packaging materials can be guaranteed when the quantity is large in the later period. Does the packaging and printing plant have multiple mechanized production lines, the products are straight, clean and standardized, and can be shipped on time!
You should select the customized packaging boxes manufacturer according to the quality of the product.
When choosing a printing plant, many companies will choose a printing plant with a relatively low price. In fact, when choosing a printing plant, the price should not be a single factor of choice, but should be selected based on the quality of the products produced by the printing plant.
Cosmetics packaging boxes need to be positioned before they are officially sold.
Cosmetic packaging is an important detail that needs to be considered. Where can I customize a packaging box that satisfies ourselves and customers has become the most annoying problem for customers.
When we customize packaging boxes, we will consider product positioning and product characteristics, and design a variety of solutions for customers for customers to choose from.
In the process of customizing cosmetic packaging boxes, the first thing we must consider is the cost issue. Usually, in order to save costs for customers, we will choose multiple packaging boxes with the same size, different facial paper screen designs, and different inner supports to set off the cosmetics. During the production process, it can improve the production efficiency, and can save a large part of the cost intangibly.
Tips in custom making cosmetic packaging boxes
What are the details that need to be paid attention to in the process of packaging box customization?
First. Determine different cosmetic packaging boxes types according to different products.
You can choose the type of paper packaging box according to your cosmetic product shape and market positioning. For example, if your product is a round perfume glass bottle, then you can choose a cylindrical paper jar packaging. There are many paper box types for your choice. Such as folding box, heaven and earth cover packaging box, book box, drawer box box and other styles.
Paper lid and bottom box structure
Paperboard magnetic flip top box structure
Paperboard clamshell gift box structure
Paper drawer box structure
Rigid collapsible paper gift box structure
Two open door paper box structure
Round paper tube box structure
Rigid heart shape paper gift box structure
Second. Choose different papers according to different design drawings.
According to the overall craftsmanship of the box, it is recommend to choose different face papers. The main materials are white cardboard, silver cardboard, gray cardboard, coated paper, etc.
High-end cosmetics packaging boxes, generally in the form of paper wrappers, made into heaven and earth cover, or book-shaped box
Mid-range cosmetic packaging boxes, usually made of gold and silver cards for various crafts, cardboard packaging
For the lower grade, it can choose 350g white cardboard, laminating, and die-cutting, and the cost is also relatively low
Third. Choose different processes according to different product designs.
Usually packaging designer design four-color printing when customizing the packaging box, and add some pantone spot colors. The product packaging usually has the company's LOGO. Usually the LOGO has a prominent design, such as hot stamping, laser convex, UV, etc., to play the finishing touch.
Forth. After all the preliminary work has been done, carry out proofing.
Proofing is the only important criterion for inspection results. The complete sample of the packaging box is customized to the customer for confirmation, to see if it needs to be modified, to achieve customer satisfaction. For the first custom printing packaging box, usually require digital samples. It even need to print the proof box sample on the printing machine if client has strick color requirement. Because the color of the digital sample may be different from big machine mass printing. The printing machine real samples can ensure consistent color in mass production.
Fifth. High-quality printing the cosmetic packaging boxes case.
The printing process of cosmetic packaging boxes is very demanding, and the most taboo color differences, ink dots, inaccurate needle position overprinting, scratches and other problems will also bring troubles to post-press processing.
Summary
Article Name
How to order best quality eco cardboard cosmetic packaging boxes from a good package supplier
Description
How to find a professional paper packaging supplier to make premium custom cardboard boxes for cosmetics? Several tips to help you order great cosmetic packaging in office or at home.
Author
Major Custom Customer Server Team
Publisher Name
Major Custom Industry Co.ltd
Publisher Logo