What's square paper clamshell boxes
Square paper clamshell boxes are also called book shape boxes, magnet boxes or paper gift boxes. An outer shell cover and an inner bottom box composes the rigid box with window. Its main shape is square, which is very convenient for stacking and stacking. Packaging engineer add a magnet to the clamshell, makes box convenient for opening and closing at any time and allows the box reusable. The most important thing is that it covers a transparent window on the box. And it pastes transparent PVC or PET film on the window. In this way, consumers can clearly see the products inside without opening the box. In this way, consumers can see and understand the product more directly, and they are more assured of the product. Greatly increased consumers' attention to products and the desire to buy.
The square shape is also suitable for placing products of various shapes. In order to make the product better in the box, and also protect the product, it can add a variety of different inner supports to the box. According to the shape of the product, the shape of the cut inner support is customized so that the product fits into the inner support. The inner and outer dimensions are just right for the inner dimensions of the rigid box with a window so that the product and the inner casing will not shake in the box. It can well protect the products even during transportation.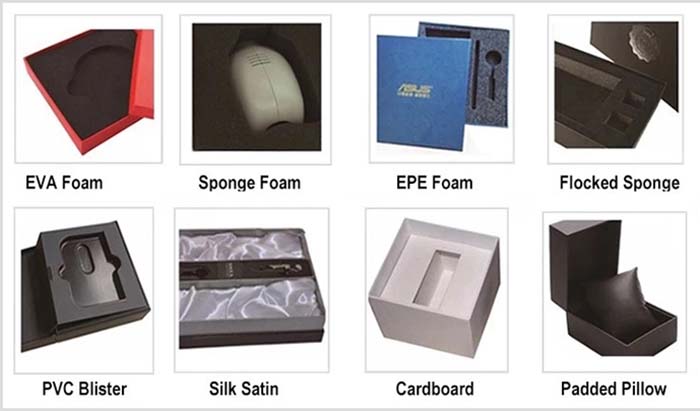 How to fix products firmly into paper box
The commonly used inner support can be divided into EVA inner support, sponge inner support, blister inner support, paper card inner support and so on. EVA inner carrier is the highest grade, and the material is tight, which can fix and protect the product well. Commonly used EVA inner support has black EVA inner support and white EVA inner support. However, the larger the size of the EVA inner tube, the more expensive it will be. Suitable for some electronic products packaging that is not very large but high value, cosmetic glass bottle packaging. The sponge inner support is softer and more elastic than the EVA inner support. Suitable for packaging of products that are not heavy but fragile, such as glass cups and bottles.
The blister inner support has white blister support and a transparent blister support. It makes the blister inner support by PET or PVC sheet thermally blistering on a pair of molds and then cooling and shaping. It is very suitable for various product packaging inner trays. But because of the need to make molds, MOQ generally needs more than 1000pcs. Paper Card Netto is made by paper card die-cut and glue, which is cheap. And because the paper material is the most environmentally friendly, it is suitable for some packaging that requires complete environmental protection.
Learn how factory make paper flip-top magnet boxes. How to start a good packaging business.
Summary
Author Rating





Brand Name
Rigid magnetic paperboard box packaging with clear window
Product Name
Price
Product Availability