Print On Demand Tandem Box Drawer Slide Cardboard Boxes
Tandem cardboard boxes with sliding drawer as this, is made of biogradable paper stock, using for beautiful jewelry packaging. This pink packaging box, is a handmade cardboard gift box, which is a little complicated in structure. But in fact, it is a simple slide out drawer box. This small double drawer box has a drawer structure of two layers above and below, with a cute shape. The outer paper of the drawer box is printed with colorful pattern design, and the inner surface is lined with pink book paper. The appearance of the purple box and the inner surface of the pink box, the whole box looks quite girly. The purple drawer ribbon makes it easy to open the drawer. Double drawer box design The upper and lower drawers can store two paired products, which is very suitable for couple of ring sets or couple accessories sets. Different to cheap jewellery presentation boxes, this drawer tandem box requires a lot handworks, which skilled workers can achieve the qualtity standard. When a tandem box drawer slide out, it always gives consumer surprise and joy.
The difficulty of producing double-layer drawer boxes is much higher than that of ordinary single-layer drawer boxes. Not only must the upper and lower layers be symmetrical and beautiful, but also the tightness of the drawer is higher. Because the drawer is too loose, the upper drawer will hang down, which will seriously affect the aesthetics. In order to effectively support the upper drawer, the double-layer drawer box often adopts a double-sided cardboard wall structure. The inner paperboard mainly fixes the inner structure to support the middle horizontal plate, and the outer paperboard serves as the outer frame of the box. The double-layer drawer box mounting paper relies more on manual production, and the difficulty is greater than the ordinary single-layer drawer box.
Product Name: Recycled Multilayer Sliding Drawer Boxes-Pink Cardboard Boxes
Tags: Custom corrugated boxes, Product box, Paper mache handbags, Clear round box
Summary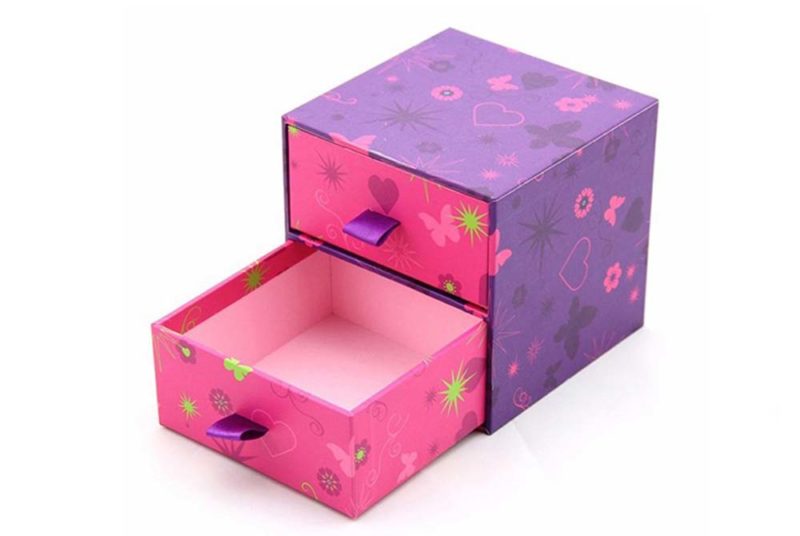 Author Rating





Brand Name
Product Name
Custom 2 layer sleeve match gift paperboard box with double drawer
Price
Product Availability