Paper tube food packaging is a healthy and environmentally friendly round paper packaging box. It is mainly made of paper materials. In order to make the round packaging cans have airtightness, its lid and bottom are often made of aluminum or iron sealing lids and sealing bottoms. Food paper cans use special food-grade paper materials. Its printing inks also use food-grade soybean inks, which are non-toxic and odorless. It can well retain the original taste of food.
Food paper cans can hold a wide range of foods, widely used as powdered solid foods. Such as protein powder/cocoa powder paper food containers, salt/sugar paper food containers, oatmeal paper containers, coffee tube packaging, tea powder tube packaging, almond powder cylinder packaging, and MSG /Chicken essence cylinder packaging. Also use as granular food packaging tubes, such as various nut cardboard tubes, round seaweed potato chip cardboard tubes, biscuit paper canisters, round peanut packaging boxes, pet paper canisters, etc.
Advantages of paper tube food packaging:
The paper material itself is a natural environmentally friendly material with stable chemical properties. In daily use, no need to worry about the chemical change of the paper tube in the temperature and humidity changes. It will not endanger the safety of food. Our qualified paper can products are all made of food-grade materials. It's safe and healthy, has no effect on the color and flavor of food. Even qualified as baby food packaging tubes.
Lighter than tin cans and glass bottles. The main material of the food cardboard cylinder box is paper material. Lighter than iron cans and glass cans and is convenient for consumers to carry.
It is convenient to recycle use cardboard tube packaging or even burn without pollution. Paper materials are internationally recognized environmentally friendly materials. The food grade paper box made of paper materials are environmentally friendly and have little impact on nature.
You can fill food products into cardboard canister packaging at high temperatures. The aluminum foil packaging and marginal maintenance of the cardboard tube packaging reduce the penetration of oxygen. So it can keep the food product inside fresh for more than 12 months at room temperature.
When filling, the vitamin C in the food does not deteriorate.
We do laminate the food tube packaging body material with polyethylene, paper, aluminum, polyester (PET), etc. It can ensure the strength of the tube cardboard packaging body.
How to customize paper tube food packaging
If you have a food product ready to be put on the market and need healthy and attractive packaging for consumers, you can consider customizing a round paper food paper packaging. How to customize paper packaging tubes suitable for your products? You can refer to the customization steps to customize your own paper food packaging containers.
Step 1. Design paper can size according to market needs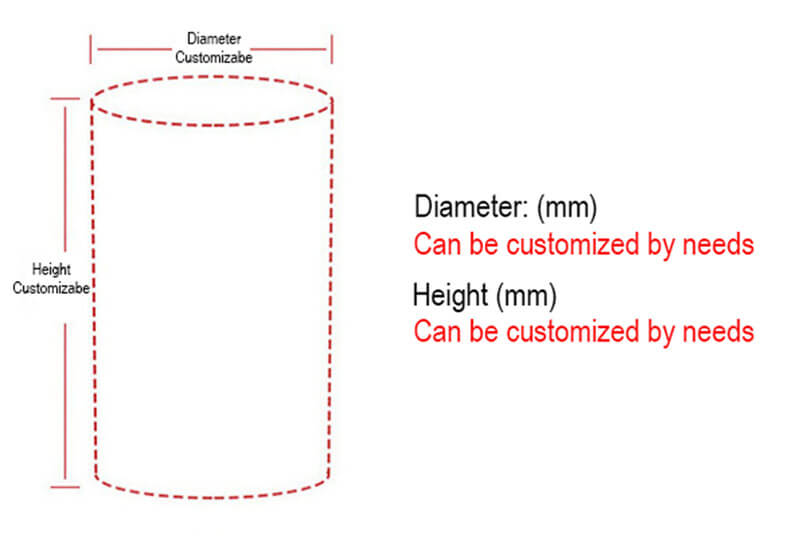 You can design the paper food tube packaging size according to the product weight or volume required per unit of packaging. For example, if you need a food tube packaging that can hold 200g of protein powder, you can design a size 73mm in diameter x 133mm in height. If you need a paper can that can hold 350g of protein powder, the size can be 97mm in diameter x 130mm in height.
Specifically, you can weigh a certain weight of food products. Cutting A4 paper and glue a small cylindrical paper container by yourself. Pour the food product into a paper cylindrical container. Then you can approximate the diameter and height of the circular paper tube. Please don't worry about the small errors, we will customize a color printing or dummy tube box sample for your check before mass production. And express air freight to you for confirmation. We can adjust the size of the paper tube food packaging if it's not fit.
Step 2. Choose a suitable sealing cap according to the product properties
We have multiple paper tube box lids for customers to choose from. Each has different shapes and properties. Mainly divided into sealed paper tube containers lid and non-sealed paper tube containers lid.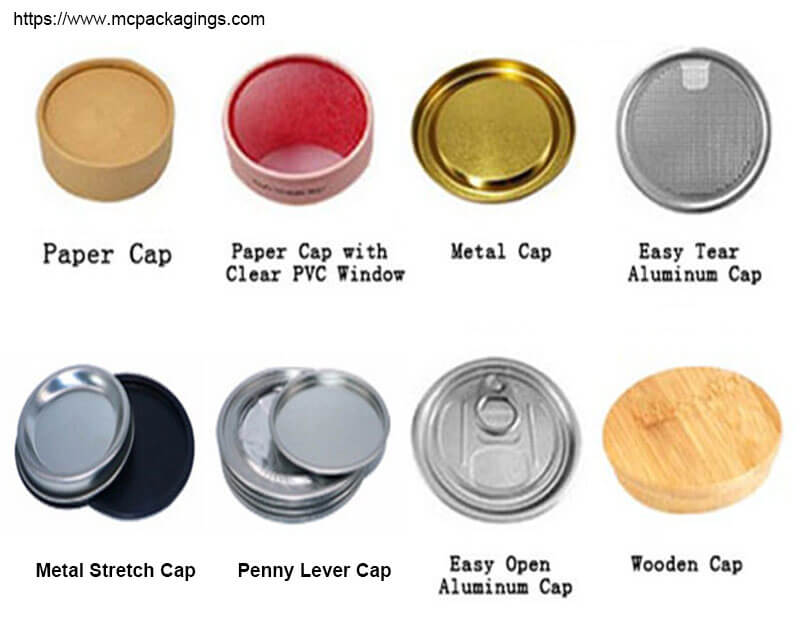 The sealed paper container lid can make the paper tubes have good sealing performance. With the aluminum film inside, the paper box food container has a good moisture-proof. Anti-oxidation and fresh-keeping function. The food preservation period at room temperature can usually reach 6-12 months. Sealed food-grade cardboard tube lids include Easy open end, easy peelable end, penny lever lid, shaker seal end, etc.
Easy open end
The easy-open end is also called easy pull top, easy pull cap/lids, easy pull cover, etc. Usually consists of aluminum material. It has a handle on the lid, convenient for people to lift and tear the lid with their fingers. Dried fruit food tubes and biscuit snacks tube packaging usually take this style structure.
Easy peelable end
Easy peelable end also called easy tear cover, easy peelable top .etc. We generally call it aluminum easy tear cap as it's made of aluminum material. It has no sharp edge when people tear open it. Comparing with easy-open ends, it's safer for consumers to open it. So it's more suitable for children's food packaging boxes. The easy peelable end is more and more widely used due to its safety. Many protein powder packaging tubes, coffee tubes, soy milk powder tubes, buckwheat flour tubes, oatmeal tubes, etc has this easy peelable end.
Please note that you need to seal the food tube packaging with easy tear lid or easy open lid by a machine. After choosing this type of sealed paper can lid, you need to purchase a paper can sealing machine – one small paper can machine costs about USD1500~USD2500. Usually, we help customers to seal the lid, and ship food cylinder packaging loose with metal or aluminum bottom. After filling the food into the paper can, you seal the bottom with a paper can seal machine by yourself. In order to extend the shelf life, qualified customers can even fill the paper cans with nitrogen before sealing the paper tube packaging. If you don't have a paper can seal machine, we can help you buy it.
Penny lever lid
The Penny lever lid has two parts, an outer ring, and a middle lever lid. The client can close the small middle prying lid back after having the food. So it can keep the food left in the paper tube packaging clean and fresh for a period of time. It is great for foods that cannot be eaten all at once. Such as a can of powdered milk, which people usually do not have all at once. When pack milk powder into food-grade tube box with a penny lever lid, people can eat a certain amount of milk powder every time. Then firmly close the small middle lid back.
In order to make the cardboard storage tubes sealed well, you can choose the kind of lid with a layer of aluminum film under the penny lever lid. The air-tight aluminum film can be cut with a tool in the first time opening. This aluminum film makes the penny lever lid has the same airtightness as the easy peelable end and easy pull end. However, its ability to cover the iron cover repeatedly is not available in the easy peelable lid or easy pull end.
Metal Stretch cap
Round food packaging with metal stretch cap has wide usage in tea packaging, coffee bag packaging, snack packaging .etc. We seal the metal bottom to tube box before shipping packaging out to clients. So you no need to buy paper can seal machine. You can close the metal stretch cap manually after fill products into the food round packaging. Airtightness of paper tube box with metal stretch cap is weaker than paper tube box with an aluminum tearable cap or easy-open cap.
Metal (stretch) caps usually used as packaging for wine or beverage bottles which has no airtight requirements. If your products are packed into some airtight bags and need outer packaging, tube box with stretch metal cap is the best option for you.
By choosing this kind of non-sealed lid, you don't need to buy a special paper can seal machine. You can assemble cardboard tube food packaging with this kind of caps conveniently.
Shaker seal end
Shaker seal end is usually made of plastic. It is widely used in our daily salt shaker, pepper shaker, MSG pot, and some other seasoning packaging. Its cover has two layers-the upper blades and bottom cap base. The upper fan blade can close the lower hole very conveniently. Consumers can easily sprinkle some powdered seasoning out of the hole at any time. Then turn to close the lid hole.
In order to keep the lid clean, you can choose an outer paper lid or a plastic lid to additionally cover the lid. It can keep the paper tube packaging for food clean, not only during transportation and on-shelf selling but also during consumers' daily using.
Paper cap
The paper cap is integrated with the food-grade paper tube packaging main body. We usually cover the inside of the paper lid with an aluminum film to better contact the food. The paper cap is the most economical tube packaging cap. However, its food preservation period is short. It is suitable for foods with short circulation time and fast consumption. For example, sweets food containers, cake food containers, nut food containers, and so on for personal use in the hotel.
For the metal stretch cap or ordinary paper caps (crimping ends paper cap or flat ends paper cap), you don't need to buy a special paper can seal machine. You can close the pape cap or metal stretch cap manually.
Step 3. Choose paper tube food packaging material
The most commonly used paper core tubes are white paper core tubes, black paper core tubes, and brown kraft paper core cans. The paper tube case paper can be white case paper, black case paper, and brown kraft case paper.
Normally, white paper tubes and white case paper are suitable for printing color patterns. If your design content is very colorful and colorful, you can choose white paper tube with white case paper
Black cardboard tube core matches with black case paper. Black packaging tubes often appear to be high-end products. However, it can't do offset printing on black cylinder cardboard packaging due to its black background color. But we can do colored hot foil stamping the customer's logo design on the black tube box cases. It can hot foil stamping various colors of logo graphic patterns. Such as gold logo, silver logo, green logo, red logo, etc. We have a special bronzing material sample catalog for customers to choose their favorite color.
The brown kraft paper core tube matches with kraft paper. The kraft brown paper tubes reflect the natural health properties of the products. The printing performance of brown kraft paper is between that of white paper tubes and black paper tubes. It's suitable for printing customer profiles in single or two-color designs, text, etc. When printing ink on kraft paper, the brown background color has a big influence on the printing color. Color patterns printed on kraft paper are often different from the actually desired color tone. Therefore, kraft paper cans are often not suitable for printing rich and colorful figures and patterns.
We usually add a layer of food-grade aluminum film to the inner tube wall of food paper cans. This food-grade aluminum film is moisture-proof and oil-proof, making the paper cans have good airtightness. It is an essential part of food grade cardboard tubes.
Step 4. Design cardboard tube food packaging printing pattern
After determining the size of the paper can and the type of lid required, we can further design packaging case printing design. Our professional packaging engineers can draw paper tube packaging mockup free of charge. The mockup is drawn according to the size and type of packaging tubes you need. Your packaging box designer only needs to put your design into the tube box mockup/template.
Like general packaging paper tubes, it can print the surface of the cardboard tubes with rich color patterns and various surface treatments. Such as UV process, bronzing process, bump/concave process, embossing process, etc.
You can design the printing patterns you want according to your own business philosophy. Combining the surface treatment process to decorate your tube packaging more vivid.
Step 5. Quote price of food grade cardboard tubes to make a deal
After determining the size, structure, and material of the food paper can, Major Custom sales staff will know what kind of paper packaging jar you needs. Customers only need to tell us the quantity of food-grade paper canisters they want to customize. Then we can quote the price according to the quantity required for your reference. Our minimum order quantity for food cylinder packaging is generally 1000pcs. Within 20000pcs, the larger the quantity, the cheaper. When the quantity exceeds 20000pcs, the fixed production cost has been evenly spread. So the price is difficult to continue to fall.
Thanks to our own production plant, our prices have always maintained a low level. We strive to reduce the cost of unit packaging tubes under the premise of ensuring quality. By improving the level of machine automation and improving manual production efficiency. The competitive price allows you to reduce packaging costs. We aim to maintain long-term cooperative relations with you.
Step 6. Make paper tube food packaging samples
Product samples including design samples, pre-production samples, and mass production samples. According to whether there is printing content, it can be divided into colored samples and blank dummy samples.
Design sample refers to the samples our packaging engineers make for customers according to the specification before bulk production. During the preliminary discussion with the customer, our sales staff determine the size, material, cover type, printed design documents, and other specifications. The engineer can make a sample according to the packaging specifications. Then ship samples to the customer for confirmation. Generally speaking, most of the samples we talk about are design samples.
If the customer has design files, we can make a colorful sample for the customer to confirm. Through the color samples, you can check the size and material of the food paper tube box. You can check the overall design effect, check whether there are any errors in the design text content. If there is no custom design printing file (the packaging designer has not designed the printing file), we can make paper tubes blank dummy samples first. You can check the sample size, material, etc. You can test whether the paper can suitable for their own food products.
Pre-production sample refers to the paper tube that has been rolled, the facial paper has been printed and cut, but it has not been finally assembled into a finished product. In order to ensure the paper tube qualified and the printing color qualified, Our packaging engineer will assemble a few samples and ship them to the customer for confirmation. After the customer confirms the pre-production sample, we can safely carry out mass production online assembly. We need to consider regenerating this part if the customer is not happy with the product components. Such as the paper tube is not good or the printing paper is not good. This is far better than the final unqualified loss of mass production. Generally, when the order quantity is huge, it is necessary to make a pre-production sample to the customer for confirmation.
Mass production sample means that the bulk food grade tube packaging has already been made. We will send a few samples to the customer for confirmation. If customers are happy with the mass production sample, they can pay the balance. Then we ship packaging to customers with confidence. When the order quantity is huge, we can also express the mass production sample to the customer for inspection upon request.
Step 7. Mass production paper food tube packaging
After the samples are confirmed, we can start mass production of food paper cans. Generally, we go on mass production following samples. If customers need to make modifications on the basis of samples, they need to inform us in advance. We need customers to pay a certain percentage of deposit (usually 30%). Then buy raw paper material, purchase food paper can lids, and bottom for production. For the production process of cylindrical paper cans, please refer to How To Make A Round Box Out Of Paper
Step 8. Food tube packaging bulk cargo transportation
When the bulk goods are ready, we will tell the customer the packaging list. Such as the total number of boxes, total weight, and total volume of the product. Customers can find a freight forwarder to arrange transportation, or we can help customers contact our long-term cooperative forwarder to help arrange freight transportation. We can do FOB Shenzhen, FOB Guangzhou, CIF customer attachment terminals, or even air or sea freight directly to the customer's warehouse.
Summary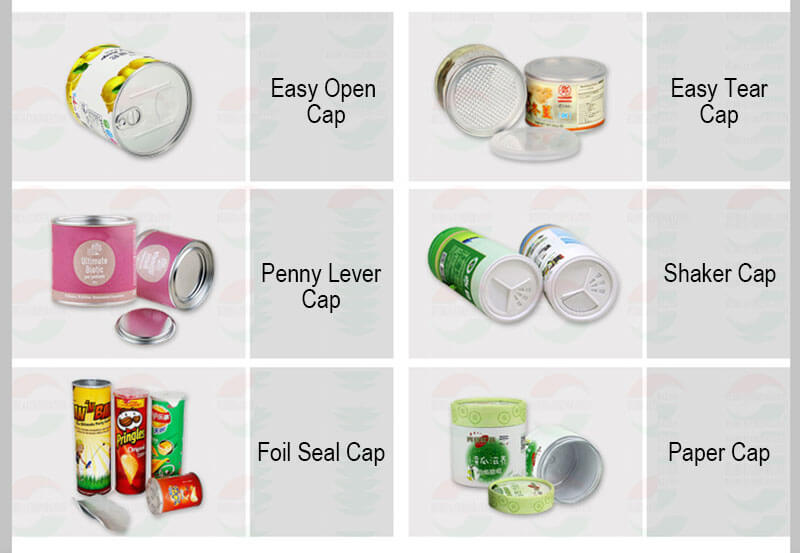 Article Name
How to design custom recycle round food packaging box from China cardboard box manufacturers?
Description
Which style round cardboard packaging box fits your food products? How to design nice food-grade cardboard round boxes to hot sell your food products? Learn here!
Author
Major Custom Customer Service Team
Publisher Name
Major Custom Industry Co.ltd
Publisher Logo