Composite paper tubes are made of various paper, food plastic film, food aluminum foil or Tetra Pak packaging materials. Paper packaging factory make the paperboard tube body by high-temperature heating and forming industry. It is equipped with a cylindrical rigid packaging container with a sealable end cap and an outer trademark.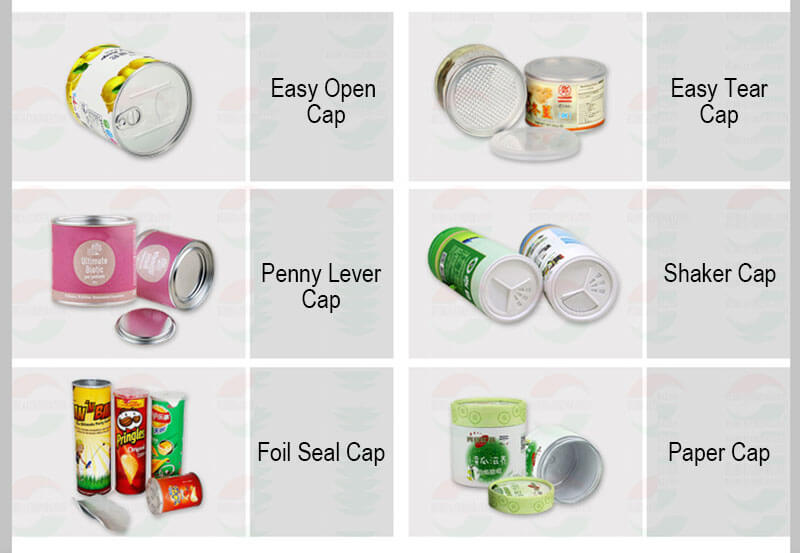 Composite paper tube packaging is very popular in Europe and North America. It has always been the main packaging method for many products, such as milk powder, cocoa, coffee, tea, cosmetics, detergents, health foods, oily foods, medicines, and spices, and vanilla products.
Advantages of composite paper tubes:
Composite food grade paper tube has good development and application prospects. It can be used as a substitute for metal, glass, and ceramic packaging containers. Compared with these packaging containers, composite paper cans have more obvious advantages:
Green packaging. Since paper is the main raw material, it is recyclable and eco friendly / compostable.
Safety use. Odorless, non-toxic, safe and reliable, especially suitable for food packaging;
Well protect. Paper composite tubes has the characteristics of moisture-proof, anti-oxidation, anti-light, heat insulation, and excellent protection performance. Paper composite tubes food grade packaging can ensure the best shelf life, keep food inside fresh and tasteless.
Widely usage. Composite paper cans tube can be used for various shapes of goods, with low noise during filling. It can withstand positive and negative pressures. So available act as vacuum or nitrogen filling packaging;
Light weight. Only 30% of iron cans, easy to circulate and easy to use.
Printing for customization is possible. We can print the outer surface of the composite paper tube can with a variety of full color packaging designs and do a rich surface treatment process. High-grade Card Board Jar packaging increases the value of the product. The beautiful paper can packaging also has a good display effect.
The price is cheap. Compared with handmade paper gift boxes, the price of paper cans is 50%~70% cheaper.
Low customized MOQ. The minimum order quantity for composite paper tubes is only 1,000. Meet the small-quantity packaging needs of customers when starting a business or newly promoting and testing the market. (While the minimum order quantity for tin cans is generally more than 30,000pcs)
The production process of composite paper tubes:
First use paper material bonded together by several layers of glue to produce a "spiral wound paper tube"
Print the customer's design on the telescoping tube surface paper, and do the surface treatment process according to the design requirements. Then accurately roll the tissue paper onto the tube core.
Cut the paper cylinder into the required size according to the design size.
Using a paper can sealing machine, install each section of paper tube with a sealed iron cover or aluminum cover. (Generally, we seal the lid that is more difficult to seal, and leave the bottom unseal. Customers fill the product from the bottom of the paper can after receiving the paper can packaging. And then seal the bottom cover).
Custom made composite cylindrical containers for food grade
Nowadays, with the development of production technology, the application fields of composite paper tubes are becoming more and more extensive. In addition to being commonly use for contain powdery solid food, it can also be used for contain various liquid food, such as juice, wine, mineral water, milk, etc. In addition, we can also use composite paper cans for special packaging technologies, such as vacuum packaging and pressure packaging, including nitrogen-filled fast food packaging boxes for gas-containing beverage packaging. However, composite food grade paper tube are not suitable for packing frozen and thermally processed foods.
If you need composite paper tube to package your products and enhance your brand, please do not hesitate to contact us immediately. We provide Design, Prototyping, Engineering Support one stop service. Our customer service staff can assist you in designing the composite paper can packaging according to your needs. Our engineering staff can draw a free paper tube mock up for you according to the size of the packaging you need. Your packaging designer can make your own brand packaging design based on the mockup/template. After that, we can customize produce a prototype according to your packaging design documents and ship to you for confirmation. After you approval the samples, we can proceed to mass production of composite paper tubes for you.
Summary
Article Name
Why we say biodegradable food grade tube packaging has many advantage and windly use
Description
Green food packaging can vividly express connotations of green food: natural, healthy, nutritious. Composite paper tube are the best choice for green food packaging - eco but also airtight to keep food fresh for long time.
Author
Major Custom Engineer Team
Publisher Name
Major Custom Industry Co.ltd
Publisher Logo